Building the right foundation for business execution requires commitment and passion for achieving your business vision. With our Technology – Business Strategy Consulting service we take a holistic approach to your enterprise as illustrated below: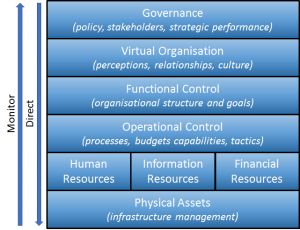 We help you to achieve your vision with a 3-step approach for building the right capabilities in your organisation by aligning investments in ICT with your business strategy.
Step 1: Assess your existing ICT strategy, infrastructure and business processes by reviewing your business requirements to identify the gaps and determine the focus areas necessary for developing your ICT Strategy and Target Operating Model for meeting your business needs. For illustrative purposes examples of "Current State" and "Target State" Operating Models are shown below:
Step 2: Develop your ICT Strategy and Target Operating Model that includes a roadmap describing the technology architecture and the degree of integration and automation of key business processes that your business will need to implement for achieving its long-term vision. This may also need to be in a form that can be communicated to your stakeholders.
Step 3: Establish the framework for building your foundation with an ICT Governance Framework that aligns the journey your board is taking with the expectations and accountabilities being placed on your management team. It is important to remember that Management is about "doing things right" whereas Governance is about "doing the right things".
Our approach and methodology is illustrated below (noting that the scope and extent of each of the steps will depend on your existing situation):